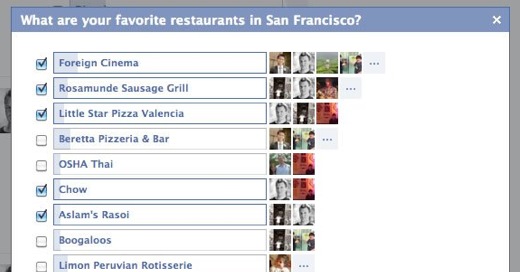 It seems that everyday one of my facebook friends is requesting advice from the rest of the group. Well Facebook has just made this task a whole lot easier. Facebook Questions offers three ways of interacting with others. You can 1) get recommendations of things, say restaurants, or movies, 2) see where people stand on a particular issue by creating a poll, and 3) you can answer questions and help point others in the right direction.
Parece que todos los días algún amigo Facebook está solicitando el información del resto del grupo. Bueno pues Facebook acaba de hacer esta tarea mucho más fácil. Preguntas de Facebook ofrece tres formas de interactuar con los demás. Puede 1) obtener recomendaciones de alguna cosa, por ejemplo restaurantes, o películas, 2) ver que opinan otros sobre un tema en particular mediante la creación de una encuesta, y 3) podrá responder preguntas y ayudar a otros guiándolos hacia la información correcta.
It seems that this new feature is being gradually rolled out, so if you don't have access yet, you should soon.
Parece que esta nueva aplicación se está haciendo disponible gradualmente, así es que, si no tienen acceso debería tenerlo pronto.
I first read about this on ArturoGoga.com
Inicialmente leí sobre este tema en ArturoGoga.com