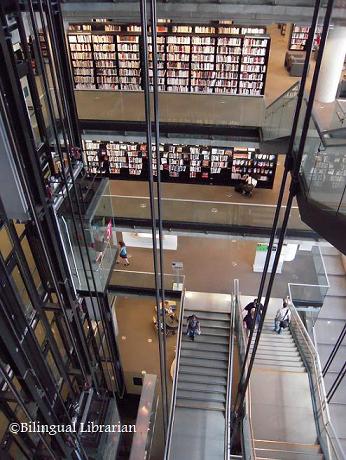 At the beginning of the month I was in Montreal and got to visit La Grande Bibliothèque! This library is one of the city's largest public libraries, and the collection is part of the Library and National Archives of Québec. I presume that since this region of Canada includes a vibrant separatist movement they feel the need to have their own national library and archives.  Politics aside, library holds about 4 millions items, most of which are in French, and 30% in English. This library is one of the most popular libraries in the francophone world, and I when I visited on a Sunday, the place really was full of people.
¡A principios del mes estuve en Montreal y pude visitar La Grande Bibliothèque! Esta biblioteca es una de las bibliotecas públicas mas grandes de la ciudad y la colección es parte de la Biblioteca y Archivos Nacionales de Québec. Supongo que como esta región de Canadá incluye un movimiento separatista vibrante que deben sentir la necesidad de tener su propia biblioteca y archivos nacionales. Política aparte, la biblioteca cuenta con cerca de 4 millones de artículos, la mayoría de los cuales están en francés y 30% en Inglés. Esta biblioteca es una de las colecciones más populares en el mundo de habla francesa, y el domingo que estuve de visita, el lugar realmente estaba lleno de gente.
On their website the library breakups their various collections with brief explanations of what you may expect to find. They have a large collection covering Quebec's Heritage, archives that date back to the 17th century, resources for genealogical work, maps, government publications, and material which has been digitized, including an RSS for the most recent additions to this collection.
En su sitio web de la biblioteca separa sus diversas colecciones con una breve explicación de lo que usted puede encontrar en cada una. Tienen una gran colección que abarca el Patrimonio de Québec, archivos que se remontan al siglo 17, recursos para el trabajo de genealogía, mapas, publicaciones gubernamentales, y material que ha sido digitalizado, incluyendo un RSS para las adiciones más recientes a esta colección.
The library also offers many of the usual services you would expect from a large public library; they have a calendar of events which includes a number of activities for small children, guided tours of the library in French or English, computer workshops, and ongoing exhibitions.
La biblioteca también ofrece muchos de los servicios habituales que cabría esperar de una gran biblioteca pública; tienen un calendario de eventos que incluye una serie de actividades para los más pequeños, visitas guiadas a la biblioteca en francés o en Inglés, talleres de computación, y exposiciones en curso.